KitchenAid KSM150PSSM Customer Reviews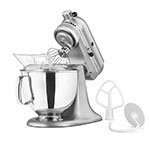 KitchenAid (KSM150PSSM)
Product Code: 449-KSM150PSSM

Add to Cart to See Our Price
Great product, easy to use. Makes many recipes much easier to prepare.
To start off, there are NO things against it. I love love this mixer. I've wanted one for several years. I kept putting it off. Now I wish I had gotten it much sooner. There is just no words to describe how happy I am. I'm looking for things to mix now. It has all the power I would need plus they have any color you could want.
I like the new improvements: taller bowl, flour guard is now all one piece, and the handle is a little larger and smoother to grip.
I love the design of the mixer, easy to use and store when not in use. I am a homemaker and like to bake cookies, cakes, and breads. This mixer serves this purpose well.
We made several holiday dishes that required use of our new mixer. What a pleasure to use and what a difference in consistancy of the mix. Once finished clean up was quick and easy, not like having to soak and wash older beater bars.