KitchenAid KPRA Customer Reviews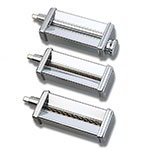 KitchenAid (KPRA)
Product Code: 449-KPRA

$199.99
I was able to make a big batch of pasta for dinner that night.
I didn't have any metal shards to clean out. Right away, these were working perfectly and I could do it by myself unlike the clamp-on design. You don't have to crank it for one and also it doesn't move around on the counter. This has made some beautiful pasta and it makes an impossible food possible.
This is one of the best pasta makers/cutters on the market. Quick and easy perfect cut pasta.
On my first try, I made two batches of dough, used a quarter of the first batch for cleaning, and made the rest into fettuccine and spaghetti. I went to no.6 setting, but might try no.5 next time because the spaghetti seemed more like angel hair to me. I have not yet mastered to get the dough sheets in straight and had a few very misshaped sheets of dough, but all in all it was a very satisfying experience compared to hand-cranked pasta rollers and cutters. Loved it, and my family loved the home-made pasta.
USE ATTA TYPE WW DURUM FLOUR FROM CANADA FOR HEALTHY PERFECT WW PASTA USE EGG-FREE PASTA RECIPES FOUND ON INTERNET USE THE OLIVE OIL SPECIFIED IN RECIPES TO OIL THE MIXING BOWL (IT ALLOWS THE DOUGH HOOK TO DO ALL THE KNEADING FOR YOU) CAN MIX, KNEAD, AND ROLL OUT FLATBREADS! WIPE OUTER SURFACES WITH DAMP DISH CLOTH, AIR DRY X 1 HOUR, USE ENCLOSED BRUSH TO REMOVE CRUMBS, PUT AWAY FOR NEXT USE!
It has taken a 2 hour job and turned it into 15 minutes. I have nothing bad to say about these items, absolutely perfect.
WE WILL ORDER AGAIN THROUGH YOU! WE ARE TOTALLY SATISFIED! THANK YOU
We've had a hand-crank pasta machine for years, but the handle always falls out. This pasta roller and noodle cutter works great with our Kitchenaid and it's so easy our young children can help make their own pasta. My order was filled quickly, arrived on time for Christmas and the price was the best I could find anywhere. Very Happy!
Use this a couple times a week. The cutters make spaghetti and noodles quick and easy; using just the roller makes lasagna noodles in a snap and even helps make ravioli easier. I feel it is probably sturdy enough for use in a restaurant. The only con is cleaning - it cannot be submerged. I've found it's best to let the dough dry and then clean using a firm toothbrush.
I purchased this for my son who was also receiving a Kitchenaid Pro600 stand mixer as a gift. I have used my own set of pasta rollers for years and I love them! My son had asked to borrow mine and was so happy to receive a set of his own. He is a cook for a small exclusive Italian restaurant and makes his own fresh pasta (my receipe) for the restaurant.