KitchenAid KHB2351CU Customer Reviews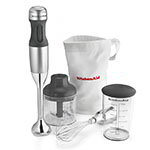 KitchenAid (KHB2351CU)
Product Code: 449-KHB2351CU

$59.99
My KitchenAid Immersion Blender is like having a helper by my side. I love to cook, but hate all the prep work involved. This 3-speed blender makes prep work fun and easy. In no time I'm done with chopping, blending,etc. This allows me to be as creative as I like and to present a mouth-watering meal that looks as good as it taste!
I bought this to prepare a soup for a dinner party and can not believe I haven't purchased one sooner. I will warn that it is called an "immersion blender" for a reason. Make sure it is fully immersed in the liquid for best results. It can be a bit messy if you don't. I have made guacamole, smoothies, hummus, salsa, whipped cream, tikka masala, and soups with this handy little tool. It's a must for anyone in need of a time saver.
Great Blender. Quality KitchenAid product. Glad we bought! After use, threw our blender away!
Easy to use and clean. I like that it has the chopping containers...no need to pull out the big bulky food processor for a little job. Love this! This item gets used almost daily.