KitchenAid KGM Customer Reviews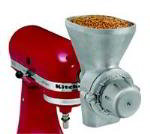 KitchenAid (KGM)
Product Code: 449-KGM

$103.99
Very good for doing what it promises. Will only grind about 10 cups of grains before the kitchenaid has to be turned off and rested, so not for large kitchens or large amounts of grains to be grinded. But for home kitchens to make fresh breads with freshly ground grains, it is a wonderful, quality made product.
I use my grinder several times a week for grinding grains for breads and cereals. I love the ease in which I can attach it to my KitchenAid Mixer and then quickly remove it for an easy clean-up.
We mainly got it for grinding our wheat for breads and pasta. It works great and is easy touse.
Happy with service & delivery