KitchenAid KCM222CU Customer Reviews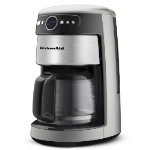 KitchenAid (KCM222CU)
Product Code: 449-KCM222CU

$99.99

I like the look of it but after having it a week It started leaking all over the place when I pour,so started pouring over sink and lose about a cup each time. I did not have a receipt and after looking at reviews find I would not have bought this pot. If I have company I fill a large pitcher and put in thermos. reheated first in microwave.
I bought this for its features and usual quality of Kitchenaid products. What a joke! I have had to return four of them now and each one has a different flaw. The door flings open and coffee cool, the bottom scrapes off, the water container doesn't fit right and the carafe leaks all over the place. Take your pick. They keep replacing the whole unit (even if it's just the leaky carafe) which is good, but the next unit has a different problem. They need to just get this coffee maker off the market. Four of them replaced in 9 mos.
This is the second one of these units we have bought and we WON'T make the same mistake again! (The first one just quit working after about 3 months!) We really liked the 14-cup capacity, programmability, and the 4-hour auto-off features, but be warned...programming this beast is a very frustrating task...especially if you come in late at night and find there has been a power failure/surge while you were gone!! We typically get up at different times, so the 4-hour auto-off feature is absolutely needed in our house. I haven't found anything with more than a two-hour auto-off yet, so this has historically been a deal-breaker for us. Now...to the "EVIL" caraffe! With all the engineering and aesthetic talent on the planet, I will never understand why the makers of this simple vessel cannot...or will not design one that pours effectively and efficiently, and one that will stand up and hold together with actual daily use! This caraffe may well be the very worst in the industry! Having had two of these same units now, and having had both caraffes somehow become unbonded at the rim, causing massive leaking while pouring suggest to even me that there is trouble in 'liver city' somewhere in the design and manufacturing food chain! I certainly expect better from this brand in particular...but I guess it proves that if you don't expect anything, you won't be disappointed!(
The hot plate that keeps the coffee in the carafe hot looked good when I received the coffeemaker. However, in less than a month the decorative coating started to flake off. I had the first machine replaced, but the second machine is doing the same thing. It does not affect function, but it looks awful.
I purchased a KitchenAid KCM222CU 14-Cup Programmable Coffee Maker less than a year ago. I make one or two pots of coffee a day. I am very dissatisfied with this produce. The front door WILL NOT STAY CLOSED. I put the coffee in, close the door and it pops open. No matter what I do, this door will not stay closed. I do have other KitchedAid products and I love them, but this is not a keeper.