Manitowoc Ice SM-50A Customer Reviews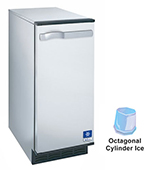 Manitowoc Ice (SM-50A)
Product Code: 399-SM50A

$1,489.52
I bought this machine a year ago. It replaced a Sub Zero that was twice the cost. Although the Sub Zero made similar size cubes it was difficult to clean and a regular maintenance problem. After three years I removed it and used it to prop up an end of my welding bench; after all, it was PRETTY. I had a plate style before that that made smaller square cubes and was NOISY (actually melted them out a sheet with a wire grate). Not very reliable. Buy this one, use the recommended filters and cleaning solutions and your ice machine headache just got better.
Made great ice for 3 years and suffered a refrigerant problem which is a death sentence. Now I need a new machine, back to Scotsman that lasted 15 years.
We installed one of these units outside 9 months ago and it has ran perfectly. We have just replaced 2 scotsman units with the under counter model. Unfortunately the units are very deep for an under counter modelwhich leaves very little back clearance. One machine had to be modified and the drain pipe was run through the side of the machine so we could get back far enough into the cupboard. The machines are very easy to maintain and produce lots of ice. I will be buying more of these in the future.
Ice maker installed undercounter near wet bar, ideal for entertaining as there is plenty of storage for ice. There was no problem to install by a novice installer, no plumber was needed. The machine is working perfectly so far and am very pleased with this product.
I love lots of ice and this makes great solid cubes that last long in Florida heat. Super clear cubes look good in the drinks and make a nice sound in crystal old fashioned glass. I just took machine apart for cleaning, no lime scale, water softener is on turbo setting. Replaced water filter. Waiting to see how it works when making ice again. Water shutters keep falling out of the little hanger. Going to call company for solution.
Drainage hose broke and we are unable to get a replacement. We were told to go to [@] for parts.
We have this machine for an office of 33 people - makes plenty of ice - we promote drinking lots of water for health reasons. Employees appreciate and use it a lot. This machine replaced a much noisier Scotsman that died after 11 years. The clean & sanitize cycles are easy to run, will make us more likely to maintain properly. Only problem is with 5" required rear clearance, machine sticks out 2" too much from a standard depth kitchen counter.
I just received the unit and so far was impressed w/the unit. It took several calls and emails to decided on this unit vs a comparable brand. The purchase dept was outstanding w/getting back w/me by email and phone w/my questions. I was impressed at the personal manner of this company during the purchase process. I have never purchased anything on the internet,much less an appliance, so I had alot of questions. Every question was handled w/efficiency and importance to get the info back to me asap so I could make a decision. Then the shipping process was excellent because I was able to be in touch w/the local delivery company whom was also very courteous w/the delivery. The reviews commented about the unit being too LOUD, so we were concerned about this. Once we got it out of the well packed box protecting it, we turned it on and it does not sound LOUD at all. Has the same sound as a refrigerator. This will be installed in our Clinic's kitchen once built, so as soon as it is installed, we will report back. I was very impressed at the unit being self contained, which was the reason for this purchase. It is more beautiful than the pictures show, since I had no way to look at one prior to purchase. I am excited to plug in and start using. Thank you Katom service personnel for all your assistance in this purchase. Outstanding team. Promise to report back for all to read when I install and start using the unit.