Manitowoc Ice K00338 Customer Reviews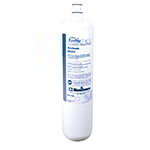 Manitowoc Ice (K00338)
Product Code: 399-K00338

$58.03
Filter installs easy but has short life span. Our filters last around 5 weeks and requires replacement. Our facility has village water but contunues to have problems with this filter. Does not live up to the filter specifications listed.
This filter only lasts about 3-4 months instead of 6 months as advertised, but I still give good review because it may be due to bad water?? Seems like manufacturer would take into consideration though when giving life span.
No problems with filter and great pricing from Katom. Will buy again and again.
This filter helps our ice stay clear and soda's taste the best.