Update International WPP-1424 Customer Reviews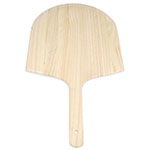 Update International (WPP-1424)
Product Code: 370-WPP1424

$7.71
The suface is a bit rough and needed to be sanded.
We had a large family "make your own pizza" party and the size of the handles made for easy use. The paddles were smooth and easy to clean.
We use the peel to scoop homemade, raw pizza onto our hot pizza stone then we slide the cooked pizza from the oven onto a cutting board. It's worked pretty well so far. It needs a hole at the end of the handle so we can hang it from a hook but that doesn't even take thumbs so I'd say overall, best price,, good product.