Update International DTS-419 Customer Reviews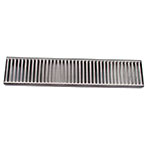 Update International (DTS-419)
Product Code: 370-DTS419

$15.09
Bought this for a keezer (kegerator chest freezer) and it works great. Very high quality and price could not be beat. Love the pull out feature for easy cleaning.
Using this as a drip tray on a home bar I built. Very good quality, and the tray removes easily for cleaning. Just what I was looking for.
I used this for a keggerator and it worked perfectly. Cheapper than other options too.
The drip tray I received is 19 3/8" long. I built a shelf to hold a 19" drip tray under my beer faucets, so the overhang is annoying.