Focus 97336 Customer Reviews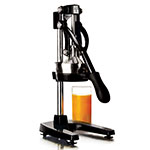 Focus (97336)
Product Code: 268-97336

$101.36
Great juicer. Sturdy and powerful. Would be great if it came with an assortment of juicing cups for lemons and grapefruits.
This press is very easy to use and works very smoothly, a very good quality press. The top part of the cup that moves down to press the citrus could be larger so large oranges could be pressed too.
This is a heavy, well made product that should last forever. And it's a 30 second cleanup, so you can use it even for a single serving.
Great for juicing limes or lemons for anything, plus other citrus. I like the heaviness of it because it will stay in place instead of sliding on the counter when you press down the juicer arm. It tends to dribble juice when you're done, so you have to put something else under the hole to capture it so you don't end up with juice all over the counter.
Yes, it will juice a lemon or lime effeciently but the design is flawed. I bought this to make and sell a 24 os clear plastic cup of fresh squeezed citrus juices from a concession stand. I can not get a cup larger then 8 ounces under the strainer to collect the juice. There is little more then 7 inches clearance. If this is strictlly for the casual, occasional, residential juces squeezing customer then this is way over designed and way over priced.
I juice two lemons daily for a drink. It is easy to use and clean up is just as easy. The press is sturdy and can juice any citrus fruit. I like it very much.
I would like to see an altenative strainer cone made for larger fruit, one that isn't so narrow at the top, to help squeeze the sides of he fruit better. The current cone devours lemons and limes every time, though. Thanx.
It is a great entertaining tool and we use it to make fruit drinks.