Focus 97306 Customer Reviews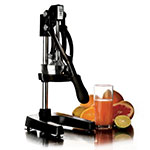 Focus (97306)
Product Code: 268-97306

$130.32
Use this once or twice every day for fresh citrus juice, including combinations of juice oranges, grapefruit, tangerine and pomegranate. Also great for lemons & limes. I bought the white enamel model 5706, fits nicely into my kitchen color scheme. Easy to use and easy to clean. Strongly recommend quartering larger fruit such as grapefruit and pomegranate due to only negative that I subtract a star for: when juicing larger fruit, the suction pulls/snaps the cone out of the base. A stronger connector would resolve this, but guessing it could present manufacturing issues. Quartering larger fruit prevents this from happening. Otherwise, a frequently used, useful and welcome addition to my kitchen! Far superior to and cleaner than a motorized citrus juicer. FWIF, the 31" seems to be the height with the lever extended in the up position, so not as high on the kitchen counter as I first expected. Actual height on counter with lever in down position for storage is 18.5"
This juicer is great. We use it for orange and grapefruit crushes and have no complaints. It is very easy to use and is the perfect size for your larger citrus items.
Freshly squeezed orange juice is just so delicious and this product makes it ridiculously easy. It was a present for my husband, who had used one before and loved it. I was a bit skeptical but I think I use it more than he does now. It is a bit heavy to move around (we have very little counter space), so I put it on a cutting board that can slide across the counter.
This is the best lemon press i have found. I have two lemonade carts that we use every weekend and have had several other brands of presses and none of them can hold up to the amount of squeezing of lemons as this one does. if you are looking for a well built and study press this is the one for you. you can also get a large cup under the press for tose jumbo cups of lemonade.
Needs lubrication with silicon/WD40 or the like, once before use and possibly once a year or two after that. It only takes a few seconds to do but should have been done at the factory as it makes pressing a LOT easier. Also gets rid of creaking noises it makes due to lack of lubrication. Easily the best product for squeezing citrus fruits IMO. Could do with a slightly longer base, as it's a little unstable when using oversize fruits (which aren't recommended). If you put your free hand at rear of base there's no problem with stability, though I dont think that should be necassary.
This juice press is great. It juices citrus fruit or pomegranate quickly and easily with minimal clean up.
Couldn't be more happier with this product. Well built. Make fresh oj everyday. Was able to put in my small kitchen. Easy to use. Easy to clean.
Great product. Makes delicious juices in no time flat.