Focus 33600-COFFEE Customer Reviews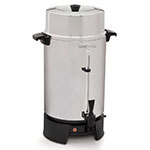 Focus (33600-COFFEE)
Product Code: 268-33600

$122.08
we had one just like it at our church for more than 20 years.Sometimes we need one at two locations at the same time.We wouldn't buy any other product.
BRCI uses the pots to heat water in the prison dorms. Most food items sold only require hot water to make. It saves wear & tear on microwaves. They are secured in a metal cage to avoid assaults.
This product is truly a dream come true. It is so easy to handle and it does all the work itself so there is no need to watch it. It fits almost anywhere and goes perfectly no matter where you put it. This coffeemaker is most used at church parties and its the perfect size for my small church.