Lodge P14W3 Customer Reviews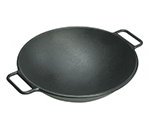 Lodge (P14W3)
Product Code: 261-P14W3

$46.75
I use the product in both stir frying and in frying potatoes, fish, wontons, egg rolls, etc. The wok heats evenly and cooks quickly without using the amount of oil used in a different size cast iron skillet.
You have to learn how to cook with cast iron. You don't need to cook on a high heat and once it heats up you can turn it down. When you get the hang if it there's nothing better or healthier. This wok is so wonderful it makes cooking so easy.
Your company offered the best price, Thanks!
Use this to cook fish in , a lot better than a pan , uses less oil
I really enjoy my wok. I use it for everyday meals, some quick, some more complex. I really appreciate the size and surface. I use cast iron almost every day so this wok fits right into my prefered style of cooking. I have already given 3 as gifts. It is heavy, but not so cumbersome that it is hard to clean up or manipulate. Great wok! If you enjoy using cast iron, you will enjoy this product.
This is a lifetime iron wok. I have seen others,they just don't have the thickness of build quality as this. Bottom round and flat (thick also).
This is a great wok for a busy kitchen. It cooks fast and evenly. Food taste better. Only one thing you have to be careful about is that it needs to be washed with worm water and a piece of kitchen towel and oiled (lightly) right away otherwise it will start rusting.I love it and this thing can lost for very, very long time.