Lodge LPG13 Customer Reviews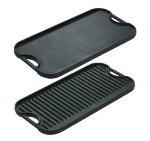 Lodge (LPG13)
Product Code: 261-LPG13

$45.83
Received my order very quickly Works us exceptionally well on the large center Burner of my stove Heats up very nicely one downside but that's the nature of the beast it's very heavy
It's great having a flat surface on top of my stove just like a restaurant for quick frying of fish, burgers, steaks & grilling vegetables. Very easy to keep clean & seasoned. The more one uses this Lodge Griddle the better it gets.
Lodge seems to be of high quality
We love using the griddle in the colder months. This griddle is thick and super heavy duty.
This is a must have item for any family's kitchen. Stovetop grill is my most frequently used cooking tool. Cook healthfully without lots of added fats. Lodge products clean easily (no soap) and last forever if you keep them clean and dry.
I have done bacon, eggs, sausage, and pancakes on the griddle side, works just like a small flat top. I have done burgers and chicken on the grill side, and it works much like a hibachi. And because it is cast iron, you can get it rocket hot for perfect searing, or for perfect grill marks. You can NOT do that with aluminum or teflon! And, once it has been well seasoned, it is as stick-free as teflon. I love cast iron. I do wish it was about one inch wider, it would fit my (gas) stove better.