Lodge LMS3 Customer Reviews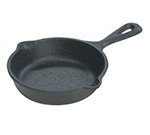 Lodge (LMS3)
Product Code: 261-LMS3

$3.44
I made wonderful individual servings of berry cobbler and it stayed warm from the oven until dessert at the end of dinner!
I just love them for making cornbread!!
Haven't used the product yet but will and looking forward to iT!!! Fresh Fruit,shortcake and whipped creme! YUM Thank-U and would shop your web-site again!!!! Bonnie Owens
I used the miniature skillets to bake chocolate chip cookies, then topped them with hot fudge sauce and whipped cream. Perfect size! everyone loved the taste and presentation in the skillets.
Show Page:
1
[2]