Lodge LMS3 Customer Reviews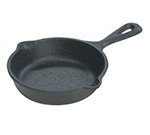 Lodge (LMS3)
Product Code: 261-LMS3

$3.44
I love my new Lodge Logic Miniature Skillets. I am using them for single serving berry cobblers for a group of girlfriends. I baked a trial run and love the individual size. They came to be ready to use after washing. (No seasoning required!) I would order from Katom again, anytime!
I use these occasionally at home and camping for making the perfect size fried eggs for an egg/biscuit sandwich. I add sausage, cheese, etc. to my egg and fry in the little skillet. I add this to a freshly baked biscuit for my version of a fast-food breakfast. The only problem I have had was flipping my egg in that small of a skillet. I found that a small silicone spatula was an easy fix to that problem. This skillet also works well on small alcohol and Sterno type stoves.
I was hoping that the measurements referred to the bottom of the pan, but it is actually the top-- making this too small for my intended use. Oh well... it's cute. If I smoked, I guess I could use the four that I bought as ashtrays...
I made wonderful individual servings of berry cobbler and it stayed warm from the oven until dessert at the end of dinner!
I just love them for making cornbread!!
Haven't used the product yet but will and looking forward to iT!!! Fresh Fruit,shortcake and whipped creme! YUM Thank-U and would shop your web-site again!!!! Bonnie Owens
I used the miniature skillets to bake chocolate chip cookies, then topped them with hot fudge sauce and whipped cream. Perfect size! everyone loved the taste and presentation in the skillets.
Show Page:
1
[2]