Lodge LMS3 Customer Reviews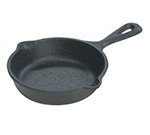 Lodge (LMS3)
Product Code: 261-LMS3

$3.44
Perfect for an egg, to do 2 eggs, you must mix them together in a bowl first and add them together. I think it would be great for roasting spices.
tHESE SMALL SKILLETS ARE GREAT FOR MAKING SMALL INDIVIDUAL CORN BREAD PONES. fRY A SINGLE EGG IN A FLASH
I saw a chef on TV use these for individual servings of brownies. I had to have them. Did some searching online and found them here. Great price, fast delivery, exactly what I expected and they are just too cute. Will use for brownies, little quiches, and mini pies.
Used these adorable little skillets for individual servings of brownines. They received oohs and ahs for presentation and I loved the even cooking and cleanup.
I was saw this item on a cooking show and was determined to find it...it's the right size for brownies or individual cakes. I plan to buy a few more!
Great for hot cookies smothered with ice-cream and hot fudge! Also great for party desserts, breakfast casseroles, and biscuits...
Same as every other store is selling, but less expensive!
While it arrived "pre-seasoned" it's a cast iron pot and you have to treat it accordingly.
I love my new Lodge Logic Miniature Skillets. I am using them for single serving berry cobblers for a group of girlfriends. I baked a trial run and love the individual size. They came to be ready to use after washing. (No seasoning required!) I would order from Katom again, anytime!
Show Page:
[1]
2