Lodge L8DSK3 Customer Reviews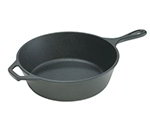 Lodge (L8DSK3)
Product Code: 261-L8DSK3

$20.35
I love the size of this skillet. The extra depth accommodates the high rise of my southern cornbread. It also comes in handy for searing and cooking steaks. The only drawback is the weight. I was lucky enough, also, to get the product on sale!
In doing internet research on cast iron skillets, I ran across some information that I found interesting. One article referred to the preseasoned aspect of the product. It recommended removing the factory coating with hot soapy water and a wire brush, then season yourself by oiling the cast iron, inside and outside, wiping off all possible oil with a paper towel, then heating upside down in an oven at 350 degrees for about an hour. Allow to cool in the oven. Repeat as necessary to get the best finished product. I've repeated this process about 6 times on a new skillet and it came out perfect, with a surface that would even cook eggs without sticking. Just remember when cleaning it to use soap sparingly with warm water to retain the surface. Occasional seasoning of the skillet will be necessary throughout it's lifetime. This particular skillet I purchased for a friend to accommodate my large recipe for cornbread which she dearly loves. When I received it, I noticed first the full 3" deep sides with a pretty severe slant to the sides. I wish the sides were a little straighter, and the depth would have been better at about 2-1/2" for the purpose it was purchased. Unfortunately, my skillet came in with a 2" long crack in the side alongside the handle, making it unsafe to use. Today I requested a replacement and I have no reason to believe there will be a problem with KaTom. Upon ordering, I promptly received my order within only 2 days regular UPS. They seem to be a reputable company with a great pice on this product.
Due to tall sides, can cook large amounts (like a stew) or small amounts. Only draw back is can't use cast iron on an electric stove. If you clean and re-season correctly, it is the 'original' non-stick skillet!!