Lodge L5HS3 Customer Reviews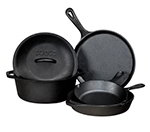 Lodge (L5HS3)
Product Code: 261-L5HS3

$67.10
Lodge cast iron speaks for itself. If you cook with cast iron then you know how great this product is.
Use the Dutch oven for stews and soups. Perfect size!
There is nothing as wonderful as cooking meals just like my own mother cooked. Cast Iron skillets and pots can be used for everything and the taste is superior to cooking with a coated pan. throw away the Teflon and use cast iron, it will be something you can pass on to you own children. Remember though, this must be hand washed , never put in dishwasher or microwave.
The cast iron is practical, easily manageable and affordable. My family and I love it.
I email a few questions I had to customer service prior to purchase. My email was answered quickly and fully. The packaging was amazing,it could have contained glassware and would have no chance of breakage.
These will make you very happy.
I ONLY USE ONE OF THE PANS AND THE HEAT COOK EVENLY.