Lodge L4LP3 Customer Reviews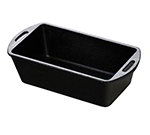 Lodge (L4LP3)
Product Code: 261-L4LP3

$11.00
We make our own fresh ground wheat bread, cooking it in these pans just makes it all the better! Lodge makes the best cast iron on the market and Katom has awesome customer service and best price. Folks who are afraid of cooking with cast iron just miss out.
great pan. have already cooked meatloaf and banana bread in the pan and both came out perfectly.
I ordered these cast iron loaf pans for our daily bread making and they are fantastic! We uses a lot of cast iron and I am thrilled to add these to our collection. Made in the USA, pre seasoned and the best price around. We use them everyday!
Rock solid, even heat distribution and made in USA
Bake bread with these and it's perfect. I can't find Lodge Loaf pans anywhere near this low price anywhere. Thanks KaTom.
These pans are great. My breads come out consistantly cooked every time no hot spots no burning or uneven cooking.
MAKES A VERY ATTRACTIVE LOAF OF BREAD!
Great Product and really, really, great price. Can't find Lodge cookware anywhere for KaTom's price.
Show Page:
1
[2]