Lodge L4LP3 Customer Reviews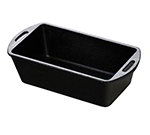 Lodge (L4LP3)
Product Code: 261-L4LP3

$11.00
Rock solid, even heat distribution and made in USA
Bake bread with these and it's perfect. I can't find Lodge Loaf pans anywhere near this low price anywhere. Thanks KaTom.
These pans are great. My breads come out consistantly cooked every time no hot spots no burning or uneven cooking.
MAKES A VERY ATTRACTIVE LOAF OF BREAD!
Great Product and really, really, great price. Can't find Lodge cookware anywhere for KaTom's price.
Show Page:
1
[2]