Lodge L410 Customer Reviews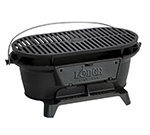 Lodge (L410)
Product Code: 261-L410

$79.75
I love this grill; it is easy to use, easy to clean and is very handsomely designed
I use it for personal reasons ,I like the cast iron construction ,easy to use no clean up most of the residual on the grill grate burns off the next time you use it.
This Lodge Hibachi,manufactured in the good old USA, has no toxic components that you might find if it were manufactured outside the USA. That was my highest concern and that's why I bought the Lodge Hibachi.
I am a professional chef, but chose this for my husband for home everyday. It works beautifully, is elevated from the coals at the right height, uses half the charcoal of a conventional bbq, and best of all is made in TN.
I am very happy w/ this grill.
We tried to use a small good quality gas grill before this one and it just didn't cook food the same way as over charcoal. Not as tasty. Also, cleaning the gas grill was much more difficult as fat seemed to burn on it everywhere and it took a lot of scrubbing to get it off (I'm compulsive). I also did not like having to deal with the empty gas cartridges (small ones) as I had to find a place to recycle them and that made for an extra little errand in the car (more gas). Although it takes a little more time to get a fire going on the hibachi, it is worth the extra wait. It is a little on the heavy side but not impossible to deal with.
This is a great grill for four or less people. We use half the charcoal we were using with our Weber grill. This is a solid well built grill that will last along time. The day I got the grill I cooked a london broil and it was terrific. I highly recomend this grill for anyone who enjoys the great grill taste of foods cooked on a hibachi grill. You will not be disapointed with this grill. Buy it!
wonderful little grill. It's heaavy but that appears to be the only downside. wish it had handles that wouldn't allow the hibachi to tip over!...fun for Korean BBQ
I plan to use my Lodge grill at least twice a week. It is well made and best of all, it is made in USA!