Lodge L410 Customer Reviews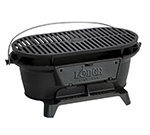 Lodge (L410)
Product Code: 261-L410

$79.75
Awesome product. The price to pay for long lasting cast iron is weight. If you have to move this item around a lot it can be cumbersome due to weight. I have to carry mine up a ladder to grill on my roof. If you have a backyard, leave it stationary, and hose it down to wash, you will have no problems. Great to grill for 2 to 4 people. I love it!
I live in a downtown condo with a small patio and the Lodge Hibachi is a perfect fit for a small place. It performs great, is of high quality and I highly recommend it.
Another quality Lodge product. I have used cast iron cookware from Lodge for years. I have wanted the Sportsman's Grill for sometime now. I found the item on KTOM with the best price. I did have to wait awhile for delivery due to demand for the grill. I use the grill 3-4 times a week with great results. Clean with water and a metal scouring pad spray with Olive oil. I also carry the grill on camping, and hunting trips.
Very nice grill, cooks anything perfectly !!
Great product. Love to use charcoal but heating up the Weber grill is a bit much for two steaks. This is perfect...and the heat is excellent with the cast iron grill grate.....very pleased with this.
We often take the Hibachi with us on outdoor, and picnic events. You never know when an extra heat source, or a quick warm up is needed. The grill takes up little space, is easy to clean, and great for those unplanned events.
Great Product, super price. The business experience with KaTom was A+
Great for use on outside table but you need an insulator underneath because the legs get very hot. I shaped a piece of hardwood to fit the oval of the BBQ. Perfect.
We grill at home 3-5 times a week, year round. I had a big smoker that was just too much for grilling a couple of sausages or burgers. My father had a grill very similar to the Lodge Logic Sportsman's Grill back in the 60s. This one appears to be every bit as solid and practical as that one from my youth. I only wish Lodge would dispense with their logo right in the middle of the grilling grate which annoyingly interferes with the cooking process- a minor point. Highly recommended.
This is the best grill I've ever used (have had dozens of charcoal and gas grills over the years). Surprisingly large grill surface. Didn't realize it until had a lot of food and thought it would require two batches. Was able to do all at once. I am using cooking spray on all surfaces before each use to build up the seasoning. It's looking better after every meal.