Lodge L410 Customer Reviews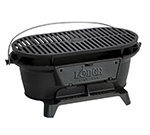 Lodge (L410)
Product Code: 261-L410

$79.75
I bought this to use when we travel in our RV but love it so much I use at home all the time. Charcoal is ready quickly, cooks evenly and is just perfect. Love it!
I bought this for my little patio. It is great! Gets very hot with minimal amount of coals! It is pretty heavy, but not too heavy to be able to move. Lodge is a great company and all are made in the USA! Love this little grill!
Love this Habachi! It is the perfect size and shape for our patio, easy to clean, looks good like an old stove,and made in the USA! So happy to be rid of the gas grill, feels like the old days with real charcoal. Plan to buy another one for bigger parties.
To quickly get the wonderful grilled flavor for summer vegetables, this is the best grill yet.
We all heard of or enjoyed the quality of Lodge cast iron skillets. Well, the hibachi grill will not disappoint you. It is made with durability, quality and pride. It will last just like their pans! I am so glad to have it and use it regularly as I am single and it satisfies all my grilling requirements.
Deck Cooking when I need it. Lost my dads 40 years ago using it for a boat anchor and have been looking off and on for a replacement ever since.
chop my own seasoned mesquite & pecan wood chunks with my vintage Boy Scout axe and soak in water for additional smoke flavorings
The grill is made much better then the average Hibachi. Great for Fish!
I use the grill for the first time yesterday, my biggest draw back I had to use foil to make a cover for it, other wise worked well
Having manned the broiler station as a line cook in more than one fine dining steakhouse in my younger years I know what it takes to get a serious cut of fine dry aged prime beef to char nicely on the outside while keeping it sashimi-like rare on the inside. This heavy-duty cast iron hibachi style grill has what it takes with its heavy cast-iron wall and grate construction it easily delivers the 1200F to 1500F degree heat necessary to produce charbroiled foods in the finest steakhouse style while doing so with just a few handfuls of lump style (my personal favorite) or even ordinary briquet type charcoal. Works well with good, clean, fully seasoned hardwoods as well. Hickory, oak, maple, cherry and other fruitwoods have all produced great results for us weather beef steaks, burgers, poultry, pork, you name it including fruits and vegetables. I have kettles, smokers, gas and electric grills to cover just about any application but for small family and intimate get togethers, this is my "go to" cooker and its the most easily transported of all of them. Just make sure to give it plenty of time to cool down before handling, cleaning and storing away. The made-for cover completes the package nicely especially for transport. I'd keep the grate lightly oiled and topped with foil for storage to keep rust from forming on it. Love this thing.