Lodge L17SK3 Customer Reviews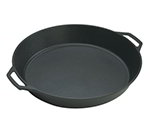 Lodge (L17SK3)
Product Code: 261-L17SK3

$57.75
great for cooking for family and friends...makes an impressive presentation, it will hold the meal! solid lodge quality! and there is a difference...made in the usa matters. i love the beautiful sear it does on meats...you can turn the heat up on high and hear the sizzle with this pan!!
The skillet cooks very well and does not stick. I use it too cook Home Made Pizzas. The pizza never sticks to the pan and it is easy to clean.
Very good for oven use also! All Lodge Preseasoned Cast Iron products are Lifetime plus. I have a Collection of Lodge Cast Iron that Ive been acquiring for over 20 years, a little at a time. I enjoy the cooking as much as is possible with Lodge Cast Iron, I love it! Very well made, USA!!!!
Best Skillet I Have Ever Owned!!!