Lodge L16CO3 Customer Reviews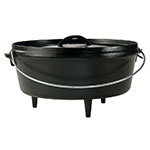 Lodge (L16CO3)
Product Code: 261-L16CO3

$99.00

Great for a large group of friends. I use it to cook large pots of stew over camp fires. Friends love it.
My son-in-law and I enjoy dutch oven cooking and these ovens work great! We each have several and use them about every week around our fire pits!
We use Dutch ovens for camping and home meals. The tradition continues. One comment above: I said that I would buy the product again ........ no need too, the product will last a lifetime and more. I stated for a "CON" that the item is heavy and bulky ............. material is cast iron??
fits right in with other ovens,cakes,biscuts etc. good price
Lodge Logic has always been the industry leader so I expected what I got,"the best dutch oven available". I owne the full line of lodge camp ovens. What is noteworthy is Katom. Great price, great service, great tracking, etc. I teach out door cooking classes and will promote Katom in my classes. Thanks so much
As a parent and Eagle Scout I find myself coming full cirle as a Scout Leader. I have several dutch ovens and this 16" is perfect for feeding a large group. It's better suited for baking than a 14" deep oven but still has sufficient capacity for very large one pot meals. It's big and heavy, but that's what you get when you need a big DO capable of feeding an entire troop. I believe this oven is particularly useful when paired with a 12" for dessert. It's also perfect for keeping stack of tortillas or pancakes warm. I wish somebody made a trivet for this oven.
I'm an adult leader with boy scouts, when it's meal time when camping there is nothing better than Lodge camp dutch ovens. You can cook almost anything in them that you can cook in an oven at home. This Lodge 16 inch dutch oven can roast a 10 pound turkey (butterflied). It is heavy but the great tasting food produced in it makes it worth while.
I am a Boy Scout Master and own many different sizes of dutch ovens. Each has their specific purposes, but when I go to camp with 12 scouts and need to make a meel, I need large dutch oven. This one is perfect for campouts. It fits on my cook stove and the legs go through the grate making a perfect pot for stews or whole meals. When I want to bake with it the legs are nice to keep it off the coals. It is large but unlike my deep dutch ovens it bakes more evenly and will work for large desserts or rolls or cakes. Another thing I like is when I am cooking pancakes on the griddle, I store the cooked ones in this dutch oven and it keeps them warm while the new ones cook and it does not even have to be on the heat to do so. Lodge is the best brand of dutch oven on the market and KaTom had by far the best prices on the internet... I couldn't be more happy.
Great piece of equipment....
Can prepare large meals, deserts, and breads. IDOS International Dutch Oven Society member. Boy Scout leader, and instructor outdoor cooking. Preseasoned Outdoor Cooking,Troops and groups. "Its a Lodge." Made in USA.