Lodge L12SC3 Customer Reviews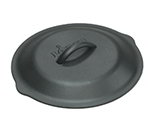 Lodge (L12SC3)
Product Code: 261-L12SC3

$33.00
I wanted a glass cover so I could see through during cooking w/o removing it. However, I'm completely satisfied with this one. I had been using covers that came with other pans, but they didn't fit well. This one seals the skillet perfectly. Of course, being cast iron, the handle gets hot and it is heavy. Takes two hands to lift skillet and cover in/out of oven. But the heat retention and protection from grease splattering is well worth it.
Product was shipped promptly.
I not only bought the "lid" but several other items as well. All are extremely durable and cooks meals evently throughout. These are excellent products and can be used in the kitchen or camping, both with ease.
Impressed with Katom. Would buy from them again for sure!
The lid expands the uses for the wonderful skillet.
If you buy the Lodge Logic 13-1/4" Skillet, this is definitely needed. Its built to last and fits perfectly on the skillet.
Use it camping, in the kitchen and the back yard cook outs. Will last a life time.
Having looked a LONG time to find a heavy-duty lid for our cast-iron skillet, we were pleased to find not only KaTom but also this particular item - it fits our extra-large skillet perfectly. The lid has spikes on the interior which provides even greater versatility.