Lodge L10SKG3 Customer Reviews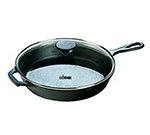 Lodge (L10SKG3)
Product Code: 261-L10SKG3

$34.65
cast iron skillet says that it is pre-seasoned... It doesnt seem that way to me. I have cooked lots of bacon in it... wipe it down with vegi oil all the time and eggs still stick to the bottom..
I trust Lodge for High quality products. I trust KaTom for good prices
We love our cast iron. I was pleasantly surprised by how foods don't stick to it.