Lodge L10SKG3 Customer Reviews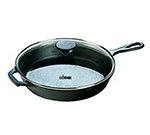 Lodge (L10SKG3)
Product Code: 261-L10SKG3

$34.65
This pan is perfection. I love having a pan that I can sear any meat in and then finish in the oven. I use it to roast shallots as well - I caramelize on the stove and roast in the oven. The cast iron is so easy to clean and care for, it makes me want to toss all of my other pans. I know I'll have it for life. Katom prices are quite good compared to other stores I have seen this in. I will probably purchase an insulated pot handle at some point and may invest in a pot rack as this is almost too heavy for my cabinet drawer.
I have the same skillet. It is great.
cast iron skillet says that it is pre-seasoned... It doesnt seem that way to me. I have cooked lots of bacon in it... wipe it down with vegi oil all the time and eggs still stick to the bottom..
I trust Lodge for High quality products. I trust KaTom for good prices
We love our cast iron. I was pleasantly surprised by how foods don't stick to it.