Lodge L10CF3 Customer Reviews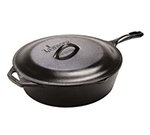 Lodge (L10CF3)
Product Code: 261-L10CF3

$46.75
Best pricing on the internet. Service was excellent. Quality product, and I really enjoyed the fact that the skillet was pre-seasoned and ready to use right out of the box! A very good chicken fryer. We filled it with chicken wings the first day it arrived...
I love to cook cajun dishes, and this fryer is perfect for that. But remember not to cook the tomato dishes as the acid eats away at the seasoned finish. I was raised in Louisiana and mother gave me her fryer, but in a move I lost it. therefore, I was so happy when I found this one. Love it.
This product is great for frying. It works well on an induction stove top. I works well for stovetop to oven recepies. It is a bit heavy but the pros far outweigh this.