Lodge GC12 Customer Reviews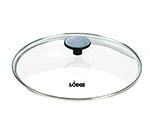 Lodge (GC12)
Product Code: 261-GC12

$15.13
I recently purchased the Lodge 12" Skillet with no cover. I like to sand new cast iron skillets smooth like the antique ones. I wanted to wait and see how this skillet came out before I spent money on the cover. The skillet came out very well. Use rough sand paper 40 to 80 grit(man's work). You need to cover large skillets for Eggs and Fried Chicken or anything that spatters. Lodge makes the best Cast Iron Cookware. Still made in USA!
Well made lid and fits the 12" Lodge Signature skillet perfectly.
Just what my cast iron pan needed!