Lodge EC3CC43 Customer Reviews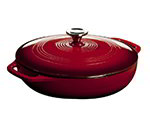 Lodge (EC3CC43)
Product Code: 261-EC3CC43

$60.50
Love this pan for small braises and several recipes that start on the stovetop and finish in the oven. Great pan at a great price!!
You won't find a lower price anywhere on the internet. $60.50 + $17.40 for shipping. Fast delivery, too. Thank you, Katom and Lodge!
I needed a shallow ovenproof skillet that I could use on top of the stove and then transfer to the oven when needed. This was exactly what I needed.