Lodge E6D40 Customer Reviews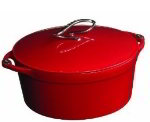 Lodge (E6D40)
Product Code: 261-E6D40

$85.56
poor quality all around.the porcelain is pocked and the lid does not fit tight. buyer be ware!
This is a great value. I looked at the popular French cast iron brand. It was three times the cost. I can't imagiine it performs any different. The meals I have prepared in this 6 qt. Dutch oven have been delicious. Clean up was a snap. The added bonus is that the colors and styling are very appealing.
I gave this as a gift to a friend who really wanted a great stew pot. The feedback I got was, not only was it an impressive gift -- heavy, well-made, and a serious piece of cooking equipment -- but that others who saw it wanted one. Of course, it's huge and iron so it heats slowly and distributes heat evenly and yes, it's quite heavy: there's nothing better for a stew or goulash than this (except maybe a bogracs, or cauldron, but those are not really practical for the home cook). ;-)
i use my dutch oven pretty much everyday eversince i bought can hardly use what i used before will definitely buy more in differrent sizes. easy to clean,handles do not heat up,the handle on the lid thumbs up to the designer its so user friendly,non-stick at last,distributes heats evenly,keeps food warm im loving it.i notice its staining quite a bit thats my only concern at the moment.Delivery was execellent and on time thanks KaTom
Best for the price point.
cooking with this dutch oven is easy and worry free. I have a crock pot in which I beleived was the easiest and most flavorfull way to cook roasts and poultry. This product out performed the crock pot in regards to cooking time, control, and flavor. And it looks great too.
This dutch oven is beautiful and very well made. I liked the look of it but couldn't be happier with how well the lid fits and the quality of the finish. The price really could not be beat. I would love to give this for a gift to others who enjoy their time in the kitchen.
my first and should be last Lodge cast iron dutch oven.