Gold Medal 7015 Customer Reviews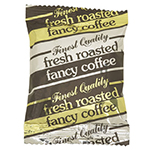 Gold Medal (7015)
Product Code: 231-7015

$68.45
This coffee is used everyday in our office. Our employees love it as well as our visiting guests.
We have switched both our employee breakrooms and the executive breakrooms to this coffee. It has a great flavor and it's a superb value
We've been using Columbian Supremo coffee in our lobby for over a year now, and end up making twice as much coffee as we used to because it is so GOOD! Customers & employees love the warm, balanced flavor without any bitter bite, even if the pot sits on the warmer for 2 or 3 hours.
A great price on a great coffee. Every pot is consistently good, and coffee doesn't get bitter if it sits on the warmer for a while. Our customers (and employees) love it!
This Gold Medal Colombian coffee is the GREATEST! We consistently get compliments from our customers and the employees love it. It has been one of my best 'finds' to date, Thanks for a great product