Vollrath 77530 Customer Reviews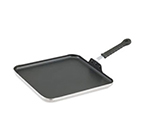 Vollrath (77530)
Product Code: 175-77530

$68.87
Even eggs and fragile foods do not stick. No oil necessary. The 12" size is great.
Perfect griddle for weekend breakfast of pancakes and bacon! I did an extensive search for a large, non-stick, induction-compatible griddle and am very satisfied with this one.
Works really well on our new induction cooktop
Great addition for my induction cooktop kitchen
Bacon, Eggs, Pancakes, burgers
I had been looking for a griddle for induction heat for over a year. The few I found were either too expensive or were made out of iron making them too heavy. This one is a perfect size, cooks great and I can make 2 grill cheese sandwiches at one time. The price was not cheap, but reasonable for the quality of the product.
This griddle works perfectly on my new Bosch induction cooktop. Pancakes and grilled sandwiches cook perfectly. After use, I toss it in the dishwasher, and it comes out like new. No doubt, this is a high-quality product.
This is a very impressive griddle. Having just purchased an induction cooktop, a magnetic griddle was needed. This fits the bill perfectly. Just handling the box prior to opening, the weight alone was impressive.
I went through three other square griddles, including two top sellers. All three warped after the first use. I am also using it for my wife's protein diet meals. All-protein powder mixes tend to be difficult to cook evenly and remove from the pan, such as crepes and omelets, but not with this griddle; everything can be lifted off easily and without tearing.
It's big so you need a big induction hob to get it going. I bought it for bacon since I can't stand bacon in a microwave. It is not the best "non-stick" I have seen especially for eggs but a little butter will remedy that.
Show Page:
[1]
2