Vollrath 69112 Customer Reviews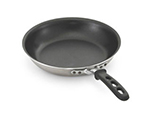 Vollrath (69112)
Product Code: 175-69112

$70.34
Bought this pan in several sizes a little over a year ago and use it for home cooking on an induction stove. I do have a CA degree and have worked in institutional kitchens in the past. The coating on these pans does not hold up around the edge of the pan and starts to peel off. We are very careful with the pans and how we use them. I called vollrath Cust Service and they reluctantly did replace one pan that we had a problem with but now the others are doing the same thing and they are now out of warranty. I have purchased other stainless vollrath pots and braisers and love them.
Bought a pair of 12" Vollrath Tribute non-stick pans to replace worn out T-Fal and Kitchen Aid pans of the same size. Tried scratch pancakes first. No extra oil or butter necessary to easily flip cakes. Then tried an omelette. Both the egg and cheese I added skittered around the pan on the no-stick surface. The three ply construction with aluminum encased in SS on interior and exterior gives pans a very rugged feel. You have the definite feeling they will never warp or become 'oval shaped' if dropped on the floor. Handle is attached super securely with four rivets, and does stay cool to touch even when using high heat to brown chicken, which I also did. Great pans!! Plan to buy a couple smaller pans of this type for flipping omelettes without a spatula as you are supposed to do anyway. Should not be a problem even for an avid family 'Dad-Cook' like me.
I have been trying to duplicate a favorite restaurant dish for the past year. First time in this pan and it came out PERFECT and so fast!!!!! Super even heat. I could not respond on durability since I've only owned it for a month. It is my new go to skillet!!!! Very very happy with this product!!!!!
This is a very fine product so far. It heats up very nicely and the 400 degree oven temp allows me to finish delicate fish dishes in the oven. This product is made in Wisconsin and is infinitely better than the junk made in China.