Vollrath 6005 Customer Reviews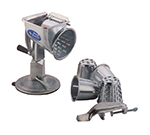 Vollrath (6005)
Product Code: 175-6005

$119.89
I have had a kutter for years! After 35+ years, my last one galled up and would not release the blades for cleaning... time for a replacement. So glad I found your site and the product I was seeking.
this manual food processor is wonderful easy to setup easy to clean and makes my dishes look top chef prepared I love it
Since it is difficult to use I do not normally make the effort to get it out often fot daily use. it is easier to just use a sharp knife to cut the vegetables instead of the King Kutter
I use it everyday, and appreciate the fact that I dont need electricity
This is great product. My mother had an older model she bought used and she used it for 20 years in her kitchen (I bought this for her as a replacement). She syas it works great on just about anything.