Vollrath 59500P Customer Reviews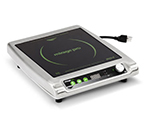 Vollrath (59500P)
Product Code: 175-59500P

$450.15
Seems to be a very well made product. The only problem so far is a confusing description concerning temperature range. Under product features it lists 80-400 F. Further on however under safety it lists 80-450 F as the temperature range. I spent a large amount of time and money looking for a range that would start as low as 80F and go as high as 465F. Although I wanted the high end as close to 500F as I could get, I also needed a controllable temperature range starting at 80F. This product came the closest without being made of plastic. It did cost considerable more than some other products, but it is well made and should last longer. I gave it 4 stars because of the confusing description concerning the high temperature which is 400F and not 450F. I am going to keep it even with this shortcoming. I will update this after I have used this cooktop for several weeks.
More uniform cooking, Inductive utensils are wonderful, but a lot of really old stuff work much better now.
5 stars. This appliance is more flexible than other similar units. The power settings are flawless. The temp programming defaults to wok cooking style high temp fast, also at lower temp settings boils water fast. Steady states the temps after a few minutes. Temp numbers are relative. Don't have to spin the knob far. Has a large coil. Handles heavy duty Volrath induction ready pans and pots well. I do everything from make coffee to making youghurt on mine.
This is a great for everyday use as well as temperature sensitive sauces. It can go from a hard boil to a true simmer to warm with a turn of the dial. The unit is very quiet for an induction burner.Highly recommended.
Wouldn't be without it, I use it more than the microwave!