Vollrath 59500P Customer Reviews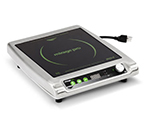 Vollrath (59500P)
Product Code: 175-59500P

$426.12
More uniform cooking, Inductive utensils are wonderful, but a lot of really old stuff work much better now.
5 stars. This appliance is more flexible than other similar units. The power settings are flawless. The temp programming defaults to wok cooking style high temp fast, also at lower temp settings boils water fast. Steady states the temps after a few minutes. Temp numbers are relative. Don't have to spin the knob far. Has a large coil. Handles heavy duty Volrath induction ready pans and pots well. I do everything from make coffee to making youghurt on mine.
This is a great for everyday use as well as temperature sensitive sauces. It can go from a hard boil to a true simmer to warm with a turn of the dial. The unit is very quiet for an induction burner.Highly recommended.
Wouldn't be without it, I use it more than the microwave!