Vollrath 5314 Customer Reviews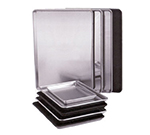 Vollrath (5314)
Product Code: 175-5314

$13.15
These are the pans recommended by Cooks Illustrated and at the best price I found. I have had some for several years and bought more to gift to my kids. These pans do not warp in the oven, even on high heat.
Searched quite a bit for these pans which were recommended by America's Test Kitchen. Happy to find them. I sent them as a gift to a guy who likes to bake bread in his home kitchen. The price was good and the service most efficient.
These won Best Cookie Sheet in Cook's Illustrated and they are definitely the best I've ever used. Very sturdy and they make perfect cookies every time. I recommend using parchment paper for easy cleanup.
I purchased these pans to replace old baking sheet pans. I had heard about this specific pan being strong, sturdy and large enough to handle big quantities. I love them (I bought 4)! I like that they don't warp when put in a hot oven, and clean up easily. They are larger than regular pans designed for home use, as they are restaurant-quality. I highly recommend these for anyone who cooks.
I wanted a really sturdy sheet pan because my old one buckled under high heat. America's Test Kitchen rated this as the best, as a kitchen "must have." So far I am very happy with its performance, including browning under the broiler. It does, however, discolor a bit with repeated uses and cleaning, not the bright silver, but dull and bronzish. Aside from that, I'd recommend it.
I've used the Lincoln-Wearever 5303 pans since 1977 (Wear-Ever stamped dates on all their sheet pans). Practically nothing goes in my ovens without being on one of these and I have hardly ever needed to clean my ovens over those years. These have been my "go-to" sheets for cookies, roasted vegetables, broiling cheese toppings (on a wire rack), holding baking dishes, prep work, even finding something big enough to "rest" the turkey on, you name it. They're a little stained and one got dented, but they are still used every day. In 3/2009 (stamped on the back) I treated myself to some new pans and got the Lincoln-Wearever 5314 as a heavier-gauge pan that was top-rated by CI. It is an even more wonderful pan and worth the slightly higher initial investment, but I do have to note, having bought a couple more since the sale of Lincoln-Wearever to Vollrath, that these Vollrath ones DO have a rather sharp "raw" edge to the bottom of the rollout on the sides and that rollout is slightly shorter and a little more irregular than the originals. Nevertheless, three of these with some parchment paper and #40 and #50 dishers (for cookies) have become my standard bridal/kitchen shower and/or housewarming gift---always well-received and I'll bet they are still being used in 30 years. You CANNOT beat Katom's price which allows me to be able to give a wonderful gift.
I already own one of these and needed a second. This baking sheet is recommended by America's Test Kitchen, a very reliable source of reviews. It's cheap, has excellent quality and works great. It's one of the most-used items in my home kitchen, and I gave it a good workout over the holidays. If you don't own one I'd recommend getting 2 of them. This one's a no-brainer.
Both pans I ordered were warped, one being VERY warped. They were shipped in a box and there wasn't any damage to the box. Vollrath needs to go back to the drawing board on this one. I do NOT appreciate paying full price, high or low, for a defective,flimsy product. If your name is associated with quality,and Vollrath has a lot of quality products, then be CONSISTENT with that quality or take the product off the market and re-engineer. Noticed others had this problem, WARPED, as well. Need to listen, Vollrath!
I was surprised to see how much better our roasted vegetables, breadsticks etc came out compared to the old baking sheets we used before.
All my other cookie sheets warp in high heat. Finally, one that doesn't! This pan is great.
Show Page:
[1]
2