Browne Foodservice 5437102 Customer Reviews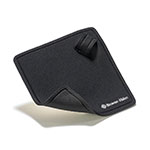 Browne Foodservice (5437102)
Product Code: 158-5437102

$5.37
Do not try to take something out of the oven with this hotpad - it melts and sticks! Looks like a potholder, but it's a hotpad for carrying and placing under warm pots and dishes. As a hotpad, not great because thumb holder makes it uneven.
I had been looking to replace some similar hot pads. All I could find were mit style or stiff square ones. Very happy to have found these. Love the thumb support that keeps them from slipping while transferring hot pans.
So happy to have found these! I had an old set of similar potholders- rubber on one side, red fabric on the other. They were my favorites- but looked very grungy after 15 years of work! What is great is that they are lightweight, flexible, and unaffected by wetness- so you won't burn yourself. Best potholders I ever had.