American Dryer DR20TN Description
American Dryer is simply the best in hand dryer manufacturing and this automatic hand dryer is a great example of their handy work. The one piece heavy duty steel cover is finished with beautiful white enamel that is easy to clean and resistant to dents, scratches, and stains. This button hand dryer is also tamper resistant, with screws that secure the cover to the base. The air intake vents are also shielded for additional safety. The permanently lubricated brushless induction motor is maintenance free and features an automatic resetting thermal protector.
Standard Features:
White finish
Automatic
30 second drying time
Auto shut off
120 volts
Tamper resistant
The nozzle is constructed of a chrome plated zinc die casting. The 30 second timer provides you with dry hands and safely shuts off on its own. The nozzle is 360 degree revolving for hand or hair drying. A heavy duty, cam operated timer comes standard that also features oversized electrical contacts for extended life. Turn on your hand dryer by moving your hand beneath the sensor and let it automatically turn off. The automatic sensor features a microprocessor controlled infrared sensor. The heating element is constructed of NiChrome resistance wire with an automatic resetting thermostat.
Investing in a automatic hand dryer is an excellent way to save money and provide a more sanitary way to dry hands. Enjoy 95 % cost savings because you won't have to purchase such a large amount of hand towels that spread germs and pile up in garbage cans, harming your budge and the environment. Whether you have a school, restaurant, or office you need sanitary and cost effective hand drying! In fact, American Dryer is so sure you will love this automatic hand dryer that they would like to offer a 10 year limited warranty for you satisfaction!
American Dryer Hand Dryers can achieve up to 95% cost savings versus their paper towel counterparts by eliminating maintenance and operating expenses associated with paper or linen towels.
The American Dryer DR20TN is an attractive, eco-friendly hand dryer that provides guaranteed results in a short amount of time. The DR20TN saves up to 95% when compared to the use of paper towels and dramatically cuts down on operating and maintenance costs. This automatic hand dryer is ideal or any business looking to go green and save money.
This automatic hand dryer features a one piece heavy-duty 16 gauge steel cover that is secured to the base with two tamper resistant screws and has shielded air intake vents to increase the vandal resistance of the unit. The permanently lubricated, maintenance free 1/10 HP brushless induction motor features an automatic resetting thermal protector to ensure optimal performance. The 360 degree revolving nozzle allows for hand to be dried quickly while it can also be turned to dry your hair or face. The DR20TN turns off automatically when hands are removed from beneath the air outlet and has an automatic 80 second cutoff if hands or objects are not removed from the outlet area to reduce energy waste. The heating element of this commercial hand dryer is constructed of NiChrome resistance wire and has an automatic resetting thermostat. The heating element operates in the black range to offer maximum life and minimal burn-out of the element.
offers a 10 year limited warranty on this American made product.
The DR Series push button hand dryer offers exceptional construction, durability and performance. This best selling series comes standard with a manufacturers 10 year limited warranty. Maintenance Free and Vandal Resistant design. Quiet dependable operation. 360 degree revolving nozzle. Automatic sensor is 100% solid state design eliminating relay contact failures. Microprocessor controlled infrared sensor turns dryer on when hands are under the air outlet. Turns off when hands are removed or in 80 seconds if hands are not removed. Options available at extra cost include a stainless steel cover with satin finish, fixed nozzle and recessed mounting.
American Dryer DR20TN Specifications
Product Spec Sheet
Manufacturer: American Dryer
Voltage: 110-120 Volts
Warranty: 10 Year Limited Warranty
Watts: 2300 Watts
Type: Best Selling Hand Dryer - DR Series
Category: Hand Dryers
Amps: 20 Amps
HP: 1/10 HP
Hertz: 60 Hertz
Cover: White Enamel Covered Steel
Controls: Automatic
Drying Cycle: Automatic
Weight: 16lbs.
American Dryer DR20TN Reviews
American Dryer DR20TN Comparable Products
Comparable Products
Dyson AB04 Dyson Airblade Automatic Hand Dryer, Quick, Efficient, Hygienic, Poly, Grey
Dyson (AB04)
SKU: 082-AB04
$1,199.00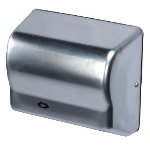 American Dryer GX1-C Automatic Hand Dryer with Chrome Finish 120V
American Dryer (GX1-C)
SKU: 155-GX1C
$225.00