Waring WCT704 Customer Reviews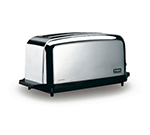 Waring (WCT704)
Product Code: 141-WCT704

$129.00
Unfortuantely, one side of the toast gets done to a greater degreee than the other, resulting in uneven toasting. Have to flip toast around half way through if you want even toasting. Disappointing in a toaster of this price.
Great no frill product that toasts all sorts of bread products in a straight forward manner with out a lot of high tech irems that always seem to go bad on modern toasters.
I use the toaster for home use and find it vastly superior to a toaster oven in terms of safety; my last one actually caught fire which prompted me to get a commercial grade unit. Bread and bagels are toasted consistently well. KaTom sent this toaster in only a few days.
We bought a couple of cheap toasters that died in rapid succession. This unit does what it is supposed to, toasts bread. Long slots are good for sourdough and bagels.
My husband and I have wanted a high end toaster for a long time. Since we've been remodeling our kitchen we decided to splurge on a wonderful toaster. We were willing to pay up if need be but wanted something super. This was not it. This toaster only burns bread even on setting 1. I had to go back to my $15 toaster and now I'm stuck with a [$] shiny paper weight. I did a ton of research online before purchasing this toaster. Either I got a lemon or way to many folks out there like burnt bread.
Finally a toaster that performs. I went through two Dualites, both burned out in less than a year. Then I bought a Cuisinart that had such small slots about the only thing you could toast was Wonderbread. The Waring has long slots to toast artisan type breads. The toasting is very even and makes the toast hot. It is well built without a lot of electronics to good bad. Only thing it doesn't have is a setting to toast bagels only on one side
Perfect style and functionality for my kitchen.
Makes great toast, easy to clean and especially like the high lift for smaller sized breads.
Toaster works great so far. The bread is toasted on the outside without being dried out on the inside.