Waring WCT702 Customer Reviews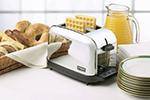 Waring (WCT702)
Product Code: 141-WCT702

$109.00
This toaster is the exact look I wanted. Chrome without goofy big knobs like all the others had. The nice thing is, is that it performs wonderfully.
Yes, I had this toaster 3 weeks and it Was just what I was looking for. My old 1946 GE toaster finally quit. This model almost looks exactly the same. The same heavy duty solid constuction , but with more modern controls. I am a person who will spend for quality, and nine times out of ten will enjoy it. It may cost three times the price of an ordinary plastic toaster, but I feel when you buy a product it should last more than one year. Also, chrome is good looking.
When my Sunbeam toaster died after 30 years, I found there was no reasonable replacement for under $130 that fit my criteria (practical and long lasting). I bought a few cheap toasters that either didn't toast right, or stopped working after a year or so. Then I found the Waring. Having a Waring blender from the 1950's that still works fine, I knew what to expect. We use this toaster everyday, the controls are linear, making it easy to select just the right amount of "doneness" and that doneness remains consistent slice after slice. The heating elements are slightly hotter on the inside, so bagels and english muffins come out perfect, but this means that regular bread will be toasted slightly more on one side. The handle used to push down the bread is lightly sprung, and latches in the "toast" position without having to "bang it down" like the cheapie toasters. The finished toast rises up enough for an easy grab, but you can push the handle up another inch or so to retrieve those extra small breads-ends. This is a "normal" sized toaster, it doesn't take up any more room than your typical toaster, it has a hefty feel to it, the chrome finish is high quality, and easy to clean. I haven't found any down-side to this unit, so long as all you need is a simple, effective toaster that will last your-lifetime, look no further, your search for the perfect practical toaster is over. You can certainly buy a cheaper toaster, but that is exactly what you'll get.