Waring WCO500X Customer Reviews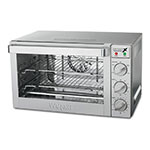 Waring (WCO500X)
Product Code: 141-WCO500

Add to Cart to See Our Price
Rubber gaskets break almost every time you clean. I ordered 2 gaskets and they worked and fit fine, but when I ordered 4 more they would not fit at all so we used the oven with out a gasket for about 6 months. They should put a permanent seal around the door. Finally the bottom element went out. When I went to order the bottom element it was on back order so rather than wait for the parts I guess I will just order a more durable unit. This product does not last but about a year using it twice per day.
I use this product everyday.
well, let see there is three of us, I have had this oven since 2009. bought it because I didn't want to use my big oven for small meals. It is so handy. Its easy to use. I have it on my island so its handy to use. would guess it saves on the electric bill also. although it was expensive, it has paid for its self.
Use to cook store made meatballs and frozen commercial foods . Bad gasket around door took forever to reach temp. Replaced oven twice then coil burnt out waiting for third new oven to arrive in one year. Sell it buying different brand
This was the only solution I could find to the 120V outlets in my kitchen. Unless I busted up the walls to install 240V, I had to go with a half-size oven. As an avid cook, I wanted something versatile, and with all the functionality of a full-size oven. I also have high-end stainless steel appliances that this oven matches.
Bakes smoothly and evenly. No cold or hot spots.