Waring MX1050XTX Customer Reviews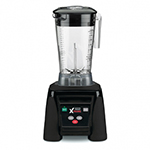 Waring (MX1050XTX)
Product Code: 141-MX1050XTX

Add to Cart to See Our Price
Great motor unit underneath vessel. Plenty of power to grind up solids into liquids. At high speed, the blades cavitate easily, so low speed suffices when coupled with high motor torque. The downside is that liquids froth out of pour spout in plastic vessel while blending, making a mess. That's what sponges are for, but still, design could have used some real-time testing. Very pleased with processing ability for short-order recipes. No need to blend and blend and blend. Unit does everything in under one minute. Membrane style control panel extremely useful on cleanup. Slow-start effective on both speeds. Pulse mode should have both high and low ranges, not just high range. Compared to 8 other units, this one wins, hands down. Next one, I order steel vessel: Maybe that hasn't a bad pouring spout. Ice crushing only with pulse mode: Continuous operation immediately cavitates and blades run free under ice. Don't waste your time with flimsy. Waring Comm'l Style the best.
I use this product daily for smoothies....Very high powered, and easy to use...Product showed up at my door in a matter of days and was very competitivly priced..
This blender is amazing. It can take anything I throw at it! Everything I blend comes out smooth and tasty.