Waring MX1000XTX Customer Reviews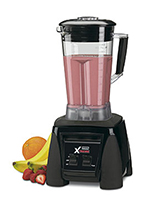 Waring (MX1000XTX)
Product Code: 141-MX1000XTX

Add to Cart to See Our Price
I took the recommendations of the reviews, that this would be perfect my catering business. I bought this item in late May and used it a couple times a day for 3 weeks and then it just stopped. No fizzle sound or anything like that to think it was going to break..it just stopped working completely. All the chef's ( 3) loved the product for making gazpacho and tomato sauce. Pesto oil. Nothing daunting at all. I am wondering if it was a refurbished machine and just did not know it. Really disappointing for sure..
Small catering business and we have gone through 3 blenders in less than 2 years so i have big hopes for this blender. I can tell this is going to be better than the other blenders. The container is large enough than the product does not get jammed up on the blade at the bottom. The processing is fast and thorough...soups, smoothies, vinaigrettes.
I use this X-treme blender for my smoothies, they are ready in a flash. What used to take me a half hour to forty five minutes now only takes ten, and that is also the time for peeling and choppine! I make nut butters for health and this machine is perfect, cuts time for anything I make in it down to a quarter of the time. It's a great quality machine. I was surprised by the overall craftsmanship, the heavy duty base, cup and the cord is like the one on my saw! It is so simple to clean. I just rinse with soapy water then hot water and wipe dry so it is ready for the next time I need it. I use this machine everyday at least twice and it has been a life saver. I paid a minimal amount for it considering the craftsmanship and the functionality. I would definitely pay the same or even more for it again. I AM VERY PLEASED!
Very powerful machine, will blend anything you put into it in a matter of seconds!
Great pricing. Great service. Machine is awesome and why pay for a VitaMix when the Waring is stronger, faster, and made to last so much longer with commercial grade components. Have several friends who already bought their own. Thank you Katom and thank you Waring