Nemco 55850 Customer Reviews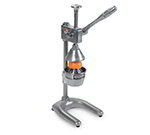 Nemco (55850)
Product Code: 128-N55850

Add to Cart to See Our Price
I own a citrus farm and am constantly juicing. I bought this because it looked like the best quality, and it certainly seems solid (I've processed ~60# of fruit through it so far with no worries). The major downside to it however is that while it looks from the photo like just slaming the lever down would squish the fruit, the gearing is such that this is not the case. An additional 360 degree turn of the lever is required halfway down. This drastically reduces the speed of the press when making large quantities. Would be great in a bar situation where you want a very clean efficient press of single fruits. I would not reccommend it for a situation like mine where a large amount of fruit needs to be processed at one time.
Stainless Steel where acidic juice has contact, unlike some juicers with plastic cups where cone is. Great leverage for ease of juicing, well balanced and sturdy. Built to last. Very easy to clean. My only complaint is it looks very industrial on my kitchen counter, but some might think that a plus. Baked on enamel colors would be great.
I researched getting a manual juicer for months and decided on this one for several reasons. It appeared sturdy, it looked easy to manage and it had a great press capacity. Sure enough it is exactly what I wanted. It isn't the most beautiful piece of equipment to have in a home kitchen, but I find I am making alot more dishes with fresh fruit juice. Plus it is made in America.