Nemco 55050AN-R Customer Reviews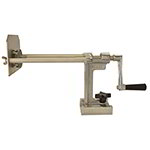 Nemco (55050AN-R)
Product Code: 128-N55050ANR

Add to Cart to See Our Price
I use it at home or take it to parties. It would be nice if you had an adapter for a drill to use instead of the handle. Works much better if your doing a large batch. Since it's a commercial product I would think that would be standard. I have adapted it for a drill and it works great.
i hook an cordless drill onto cutter
Easy to use and clean. Makes great potato chips and onion fries!
This product is so much better than the plastic constructed cutter that we had. The cutting blade is heavy duty and easily detaches for a quick rinse after each order of potatoes is cut. It was a snap to install, took 4 screws and about 2 minutes with a drill. The only thing that would make it better would be an adapter to fit into a drill for faster potato cutting when we get really busy.
The ribbon fry potato cutter is being used for church functions. We are having a Christmas Bizaar tomorrow and we used the cutter tonight to prepare our potatos ahead of time. It works really well, and is made to last for a long time. After we got it mounted, it was great and we were able to cut the potatoes very quickly.
First saw this in action at Tiffin, Ohio flea Market. Stood amazed at the vendor and watched for half hour. Had a bright thought and ordered it as a surprise for daughter. We tested it at our family reunion on 4th of July. Extremely big hit. Best part of the day was when we presented it to our daughter for their family restaurant, Teschners Tavern, Richfield, Ohio. She just finished her first week with the ribbon fries on the menu, and as an offering of finger food at the bar for those late night snacks. There were even patrons who wanted some for take home as they left. Best present, or purchase, one can make as we all look for that elusive dollar to add to the bottom line. Why just serve the ordinary, give it a bit extra. The "Daddio" did it, you can too!!