Nemco 6625B Customer Reviews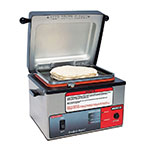 Nemco (6625B)
Product Code: 128-6625

Add to Cart to See Our Price
we have bought 3 of these steamers in the past 5 years at a $1000+ per unit you would hope they would last longer then they do. We own a small deli there not even being used in a large business. We are switching brands now that the 3 unit has broke again. I WOULD NEVER RECOMMEND THIS BRAND.
We go thru 4-5 of these a year minimum in our taquerias...not well made, but there are really no other good options.
After waiting several weeks for back order to arrive the unit only worked for 10 days. When I called manufacturer to replace they said I would have to have it serviced. It has been at service for two weeks awaiting parts. WASTE OF MONEY!!!
Love the fresh bread taste. But did not hold up very long.