San Jamar L360C Customer Reviews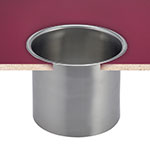 San Jamar (L360C)
Product Code: 094-L360C

$18.50
Found easily online. Installed easily, Works like a charm. Thanks.
We purchased these as chutes for our trash in the bathroom counters. Our trashcans are hidden away under the vanities & we had the granite company cut holes for these chutes & they fit & work perfectly.
This was just what I was invisioning it to be. I wanted to turn an island into a work island with casters and a hole for the garbage. I started looking for something to protect the hole from getting too gross and found this! It is perfect and easy to remove incase something gets under the side.