Anchor 85679 Customer Reviews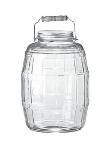 Anchor (85679)
Product Code: 075-85679

$19.05
This was perfect for my daughters rustic wedding. I bought 2 and used 1 for tea, 1 for lemonade. Old fashioned ladles went great with the theme. We also placed jute twine around the top of the jar with rustic charms on them as an added feature. Unfortunately I hadn't taken the time yet to put on the wooden handles and picked the jars up by the lid which wasn't secure. My fault completely though! It seems like the lids don't actually screw on completely hence the handles that were supplied with the jar. Still a huge sucess with guests and I will use the surviving jar at picnics, bbq's, and other outside events. I totally would buy these again if needed, I would just be more careful in carrying them!
Great for storing bulk foods, sewing items, anything that does not need refrigeration (unless you put it in a cold basement)
I will be using these jars as water containers. I was concerned about long term water storage in plastic containers and was looking for a glass jar that would be big enough and yet still light enough to lift. These jars fit the bill!