Tomlinson 1022751 Customer Reviews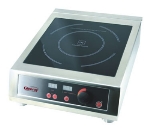 Tomlinson (1022751)
Product Code: 067-1022751

$123.45

This is a very nice range. Phenomenal bargain at the price. This range is too high powered for ordinary domestic cooking - an 1800 watt unit is much better. But it's wonderful for large domestic or commercial cooking, boiling, shrimp boils, etc. Of course you need a 240 volt supply. For my purposes (concessions and catering), that's no problem, as my WhisperGen makes plenty of 240 volt power.
My Glenray some repair or adjustment. Its temp mode is constantly 50 degrees too hot so the lowest constant temp for my unit is boiling about 230 degrees. No low or low simmer, on my unit. I like my Vollrath Mirage Pro much better,which very quiet/silent, smaller and as powerful. I would recommend the Glenray if budget precludes a Vollrath Mirage Pro.
A very good all around unit. A little heavy handed for small dishes but great temperature control and speed for larger batches of anything.