Hamilton Beach D43012B Customer Reviews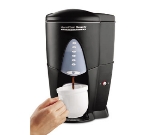 Hamilton Beach (D43012B)
Product Code: 041-D43012B

$63.00

Love that style coffee maker. This is our third one in 10 years. This one has one problem, the coffee continues to pour for a half second ater lever is released. Any suggestions to repair ?
I've had this coffee pot for 10 years. It's always worked great.
At one time I drank coffee everyday, several years using this coffee pot. I have had this coffee pot for a few years I love it, until I tried to obtain water filters. Hamilton Beach no longer makes them, I called the company. I sure I won't be buying Hamilton Beach anymore. Everything about this coffee pot I like. I have tanen care of it by cleaning with vinigar and water, this may be why it has lasted so long. Although I never had a pot last this long. I only drink it on weekends because I need coffee mate which is so bad for you. I you know where I can find the water filters 80674 would you please let me know. I would recommend this to any one if I could find the finters. my e- mail is mhodges3 [@]. Thanks so much for you response. Mary Jo
I had BrewStation 12 cup that was better. This model is a commercial Hamilton Beach product. The gold basket they offer as an add on doesn't fit properly. It also splatters, the non-commercial model does not splatter and the gold filter fit. It makes good coffee, but I wish I had purchased the non-commercial product
Great for small parties, gathering of friends, makes hot water for cocoa or other drinks too. It still works even after I broke the lid.
I have two other Hamilton Beach Coffee machines that are not commercial. I have cleaned it out completly. When I dispense the coffee it comes out of the dispense lever. I have emailed KaTom but have not heard anything back. Please let me know if I can do anything to fix this problem.